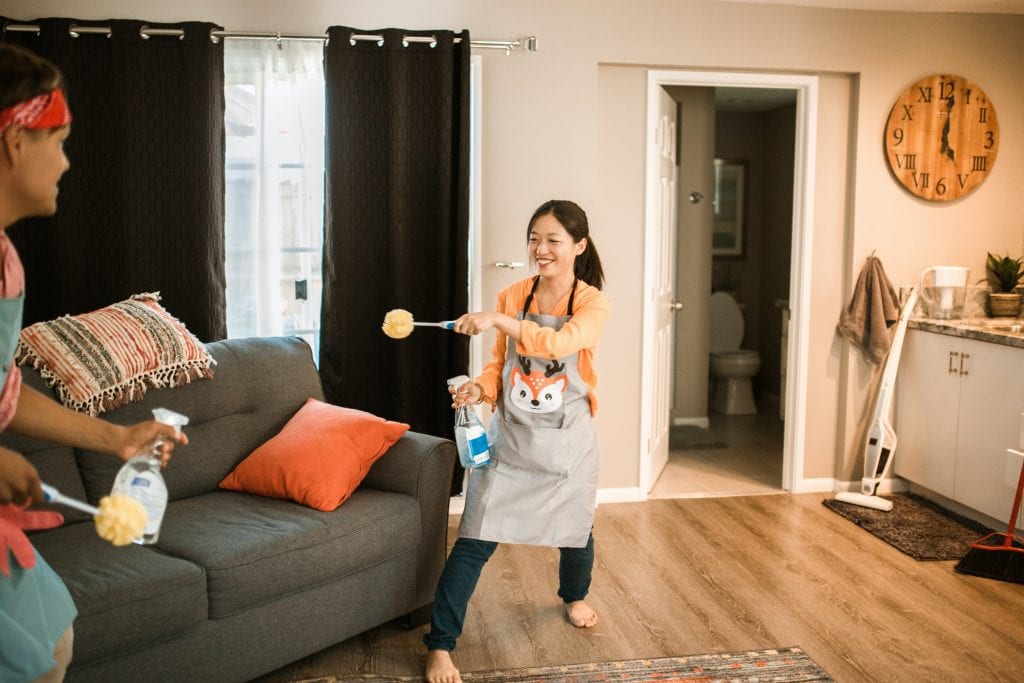 Do you need quick cleaning tips when it comes to how to keep your kitchen clean every day? If so, you are in the right space! When you spend just a few minutes cleaning up your house each day, it is relatively easy to maintain, but once your daily chores get away from you and the house is dirtier than normal, your 20 minutes of chores turn into 60 minutes of chores and sometimes it takes even longer than that. When you come home from a long day at work, or the kids are driving you up a wall that day, it is really hard to get yourself to clean, but if you know you only have a few minutes of chores and then you get to relax, it's definitely manageable! Here is how I keep my kitchen clean and organized in under 20 minutes each day:
Your first order of business is to create your organized space. This is not a part of your 20 minutes a day, so take a day on the weekend and knock this out so that you can get to where you are in the maintaining stage! To create your organized space, you need to throw out all of your junk. Any expired food, trash, or things you should not be eating. Once you have purged your kitchen, take note of what needs to be organized and what is already organized. The more organized your kitchen is, the easier it will be to maintain! I love using bins to keep everything in order in my pantry and fridge. To organize your cabinets, check out racks, can organizers and drawer separators. Once everything is organized, give your kitchen a good cleaning! Wipe down your counters, all of your appliances and give your dishwasher and sink a deep clean. Now, you are officially ready to begin your maintenance plan. Each day, do these things:
Wipe Down Your Counters
After you finish cooking your last meal of the day, make sure to wipe all of your counters down. This should only take you five minutes at most and it will give you a fresh start to the day and will also make sure you do not get bugs overnight from left behind food on your counters. I absolutely love Johns Creek GA quartz countertops by Click Countertops. Quartz countertops are extremely easy to clean and are non-porous, which is great. Click Countertops delivers not only quality but also price and speed when it comes to installing your new countertops, as well. They have perfected the skill of installing countertops and it makes it easy and stress-free for you and all of their customers. Here are a few parts of their process, which is totally different from other installers in the area:
-You never have to step foot in a home improvement store; their team comes to you.
-Keep your deadline on track by utilizing their Click streamlined system.
-Increase cost savings generated by their operational efficiencies.
-Save countless hours on research. They offer only pre-fixed material options that include the season's top sellers, their model removes becoming inundated by too many selections.
As you can see, Click Countertops is definitely superior to other countertop companies in the area AND when you install your new countertops, it will make it so much easier to keep your kitchen clean now and going forward! 
Put Everything Where It Is Supposed To Go
This will take another 5 minutes, at most. Putting everything where it is supposed to go will be extremely easy, especially since you already organized your kitchen! It will help your kitchen feel bigger, cleaner and it will make food and food preparation items easier to find when you need them the next day. I know I am a victim of the "just throw it anywhere in the pantry" motion, but how hard is it to just take two more seconds to put it where it belongs?! This is extremely easy and manageable to do every single day before bed.
Run Your Dishwasher
After you use a dish, load the dish in the dishwasher. In the evening before bed, make sure you run the dishwasher. If you put each dish in the dishwasher immediately after using it, this task should not take more than a minute (just to put detergent in the dishwasher and press start). A great reason to run your dishwasher at night is that it adds humidity back into the home which makes your air conditioning work harder. It should already be a bit cooler in the middle of the night, so this should help with energy costs. Making sure all of your dishes are out of the sink at night is essential for keeping bugs away, reducing all mold growth, and reducing gross smells from food that has been sitting out.
Run A Diffuser 
This is not a "must do," but I highly recommend running a diffuser throughout the day, or in the evenings. Essential Oil diffusers have so many benefits – they can get rid of odors, deter bugs, help remove bacteria from the air, and more. Just for the scent alone, it is worth it to me! Some of my favorites are lavender, peppermint, and orange for when I am awake. I love purification for when I go to bed – I feel like it really does purify the air and remove all of the leftover odors from the meal I last cooked. All you have to do to run a diffuser is fill it up with water and put a few drops of essential oil in the diffuser. This will take maybe 3 minutes, at the very most.
Vacuum Your Floors
 This is your last step for the day! So far, we are at about 14-15 minutes for all of the previous tasks. Vacuuming your kitchen floors should only take you above 5 minutes, putting you right at the 19 or 20-minute mark! The reason why I vacuum each day is to maintain the floors. When I cook, there are always some crumbs that drop on the ground, even if I do not see them. Doing a quick vacuum when I am finished cooking and eating is an easy way to get all of the crumbs up. On the weekend, when I do a deeper clean, I will mop the floors, but each day I only need to do a quick vacuum to maintain!